Packet Power has established itself as the world leader in wireless power and environmental monitoring in data centers. However, you may not know that people responsible for running facilities ranging from convenience stores to sports stadiums also rely on Packet Power to make it easy to meet needs ranging from branch circuit monitoring to facility submetering and remote temperature monitoring. Our new web site is designed to better showcase how we meet these types of remote monitoring needs outside of the data center.
Packet Power has always served data centers as its core business. We are the data center industry's leading wireless monitoring solution. But Packet Power also serves customers in Agriculture, Education, Government, Healthcare, Manufacturing, and more. In fact, we serve customers across close to 30 industries worldwide.
We enjoy helping our customers address business challenges that range from load balancing, minimizing cooling costs, and capacity planning to monitoring waste water pump status, measuring solar energy offsets, and 48V DC branch circuit monitoring.
We've added information about what we've done for customers to help give a sense of what we could do for you. The list was too long to cover every industry and application so we highlighted 8 industries and 8 business applications to start the conversation. Please explore the new SOLUTIONS page that links to all the featured industries and applications.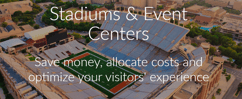 Some of the new featured industries and business applications
Global navigation has been updated for quick access to the new content as well as to Packet Power product information and support.
Let us know what you think. If you have suggestions for additional industries and applications to highlight, please email info@packetpower.com.