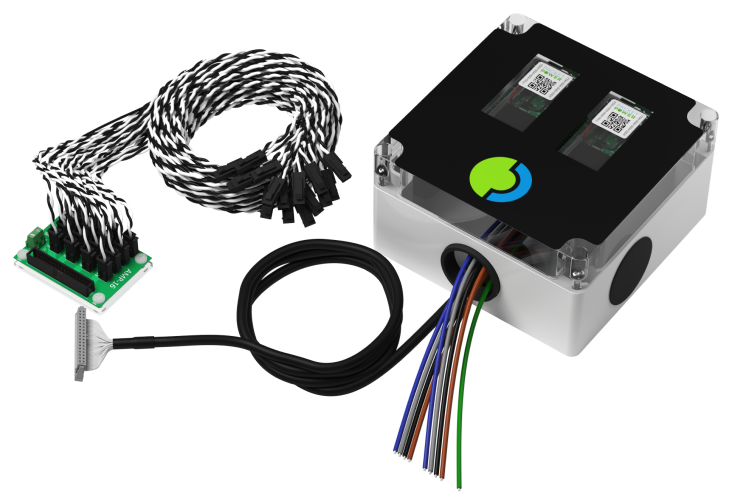 Wireless Multi-Circuit Monitoring Systems
Get remote visibility to see how your most critical equipment is operating with wireless multi-circuit monitors. Monitor high-energy loads in HVAC, IT, manufacturing, and more.
Your system will be customized to your needs, arrive fully configured, and install quickly thanks to our Monitoring Made to Measure system—saving you time and money.
Connect up to 72 current sensors to a monitor and measure voltage, amps, watts and more. Monitor full power, current only, or a mix of both.
Multi-Circuit Monitor Applications
The flexibility of these devices make them ideal for monitoring any type of equipment and informing a variety of business needs.
Heating
Air conditioning
Computer room air handlers (CRAH) and conditioners (CRAC)
Select circuits in a panel or PDU
Automatic transfer switches (ATSs)
Switchgear
Other high energy loads
Operations management
Tenant submetering
Cost allocation
Data center PUE calculation
Energy benchmarking
Power forecasting
Emergency preparedness
Monitoring Made to Measure Saves You Time and Money
Your monitoring system will be custom built to your specifications without added cost including:
Voltage source type and quantity
CT type, rating and quantity
Custom wire lengths and colors
Wire exit location
Over-current protection
Current-only, full power or a combination of both
Monitoring Made to Measure ensures your system fits your needs with no field configuration required. The faster you install, the sooner you get value from your monitoring data.
Multi-Circuit Monitors for
480V
AC Delta Input Voltage
Sophisticated Panel Mapping Capability Available
Part of a multi-circuit monitoring installation involves defining the circuit mix and making that information usable in your monitoring application.
Our panel editor makes it easy to specify the breaker rating and mix of breaker positions per circuit on any panel layout.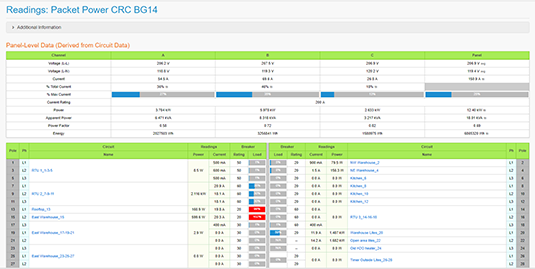 ... And Secure, Instant Access to Data
Data begins to flow immediately upon installation to your existing BMS (via SNMP, Modbus, Ethernet/IP or MTConnect) or the Packet Power EMX Energy Portal. Unlike many other monitoring solutions, there's no waiting for expensive consultants to customize your system.
Packet Power's wireless protocol was designed specifically for critical facilities with high security needs like data centers, financial service firms, government agencies, educational institutions, telcos, and colos.
Monitor Better and Easier
Packet Power is a leader in monitoring data centers. But our devices are valuable for any high-energy industry. They are a simple, cost-effective way to monitor single- and three-phase circuits up to 480V and 4000A. Match the type and amount of metering exactly to your needs. Your system will be customized and built to spec so installation will be fast, easy, and less expensive. Reduce down time and save.
The fully self-configuring wireless network protocol built exclusively for monitoring data means you pay less in setup and support costs. No need for communication cables or network configuration. Your monitoring network is completely separate from your wired data network for added security. Contact us to create a monitoring system designed just for you.