No more stranded smart power strips! Packet Power now provides an easy way to make supported metered devices not connected to a network work over Packet Power's wireless network. Simply plug the Wireless Network Connector (WNC) into the Ethernet or serial port of a supported device and data will automatically begin to flow across the wireless network.
Supported devices
The new Wireless Network Connector auto-detects certain models of smart power strips from APC, Geist and Servertech.
Brand Models*
APC Most AP77XX, 78XX, 79XX AND 88XX models
Geist Monitored units using IMD-02 meter platform
Servertech Supported PRO2 CDUs
* May not be compatible with all firmware release levels and configuration settings
Support for other brands of power strips as well as standalone meters, UPSs, RPPs/PDUs, ATSs, Gensets and others will be added over time. Contact Packet Power to discuss.
Additional WNC features
Instantly connects to Packet Power's self-configuring, self-optimizing wireless mesh network
Local LCD immediately verifies correct operation
Supports up to two optional temperature probes
Can be mounted with a low profile bracket, via a DIN rail clip, or by optional magnet
Is powered by external 100-240V power supply that works with C13 and most types of wall outlets
Easy access to data
Customers with existing monitoring applications can access data sent by the WNC via a Packet Power Ethernet Gateway using standard protocols such a SNMP, Modbus and Ethernet/IP. Packet Power's EMX Energy Portal provides an easy-to-use option for customers that have yet to deploy a monitoring application.
Download a brief Wireless Network Connector overview
WNC complements Packet Power's existing network integration solutions
The Ethernet Gateway makes data from Packet Power wireless monitoring devices accessible to building management systems or EMX Energy Portal. Our Hub connects non-Packet Power networked SNMP and Modbus devices to EMX Energy Portal. And our Data Diode enables secure one-way transfer of monitoring data between two isolated IP networks.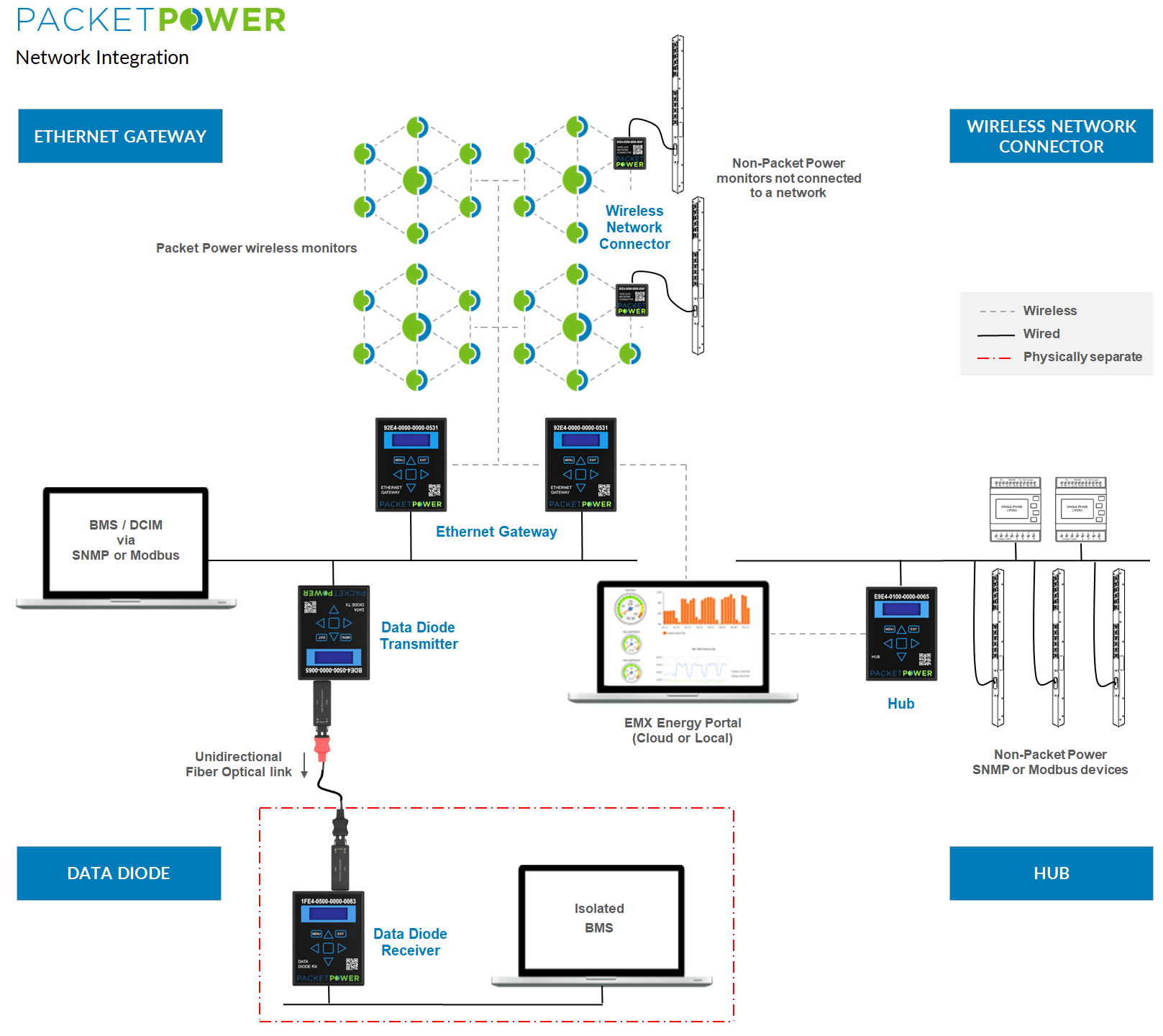 Learn more
Contact a Packet Power partner or email info@packetpower.com directly to learn how Packet Power's comprehensive power and environmental monitoring solutions can help you monitor what matters.