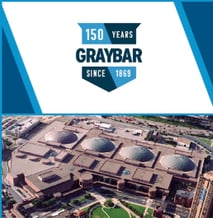 Packet Power will be joining Data Center Systems, Inc. at the Graybar Technology Showcase on September 26, 2019 in Minneapolis.
Learn how critical facilities managers use our power and environmental monitoring solutions to: identify equipment at risk of exceeding its electrical capacity; determine which tenants are using the most energy; calculate how to cut cooling costs without jeopardizing expensive equipment; and more.
The show will be held 10 AM - 3 PM at the Minneapolis Convention Center. Stop by DCSI booths 410 and 412 for live demos of Packet Power's newest wireless power and environmental monitoring systems.
If you aren't able to attend, contact a Packet Power partner serving your area to help you address your facility challenges. It's nice to be confident that the lights are on when they should be, water isn't where it shouldn't be, and your critical equipment is running smoothly. Email sales@packetpower.com to learn how we make monitoring easy.