Hubbell recently released an industry-leading intelligent connector, and Packet Power is pleased to have played a key role. The device, which looks like a standard Hubbell 60-amp IEC pin-and-sleeve watertight connector, has the built-in ability to measure power consumption and transmit the information over a wireless mesh network. It forms the core of the new inSIGHTTM Data Monitoring product line offered by Hubbell's Wiring Device-Kellems division.
Hubbell hired Packet Power to collaborate with their engineers on the development of a power monitor that could fit within the tight space constraints inside Hubbell's connector. The resulting custom-developed system uses Packet Power's wireless networking technology and tracks current, voltage, power and energy and also monitors temperature at each termination point in the connector. Imbedding this technology into a wiring device is patented by Hubbell.
Hubbell will also offer smart power cables and environmental monitors based on Packet Power's standard wireless monitoring offerings. Customers without existing monitoring applications will be able to easily access data via a customized version of Packet Power's cloud-based EMX Energy Portal.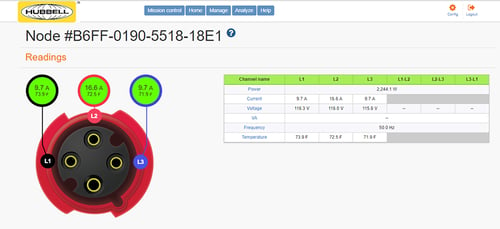 In conjunction with the inSIGHT Data Monitoring release and to better serve the industrial market, Hubbell is also releasing new Ethernet Gateway models that provide support for the Ethernet/IP and MTConnect standard protocols.
Our team at Packet Power is thrilled to have the opportunity to work with an industry leader like Hubbell to deliver a truly innovative wireless monitoring solution that can help a wide range of companies improve efficiency, availability and productivity. The products are currently available through authorized Hubbell distributors. More information can be found at https://www.hubbell.com/hubbell/en/Products/Electrical-Electronic/Wiring-Devices/Intelligent-Wiring-Solutions/Data-Monitoring/cl/2900875
About Hubbell Wiring Device-Kellems
Hubbell Wiring Device-Kellems is a division of Hubbell Incorporated, an international manufacturer of quality electrical and electronic products for a broad range of non-residential and residential construction, industrial and utility applications. Hubbell Wiring Device-Kellems offers a wide array of electrical and electronic wiring devices, wire management systems, occupancy sensors, lighting controls and specialized wiring products for the marine and healthcare markets.