The new monitors offer an easy way to add monitoring to some or all of the circuits on switchgear, panelboards, HVAC units, generators and other devices.
Our monitors are custom-built to your specifications, cutting installation time in half. Each unit can support from 3 to 18 current transformers and can monitor full power, current only, or a combination of both.
The new multi-circuit monitors come pre-configured for: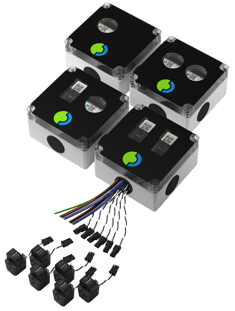 Voltage source type and quantity
Voltage lead color and length
CT type, rating and quantity
CT lead length
Wire exit location
Over-current protection
Optional custom panel map
These new selective circuit wireless monitors meet a long-standing need to add power monitoring to existing equipment only where needed and configured exactly as required for operations management, tenant sub-metering, energy efficiency tracking and power forecasting needs.
The monitors are available immediately and complement Packet Power's existing wireless selective circuit and branch circuit monitoring solutions.
View detailed product specifications. Contact sales@packetpower.com if you'd like to learn more.