Packet Power is pleased to announce Version 4 of our Ethernet Gateway is now available.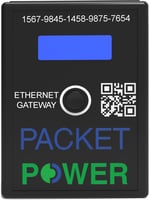 It provides a foundation for new Gateway functionality while working seamlessly with existing Packet Power devices.
New features
Models for small deployments
New user interface
New lower-profile bracket that supports standalone mounting or mounting via DIN rail clip, cable ties or adhesive pad
Sophisticated panel mapping capability
"Monitor" mode that allows data to be shared selectively across two completely isolated Ethernet networks
At 76mm x 94mm x 31mm, Version 4 is slightly larger than Version 3
Same secure, scalable wireless monitoring functionality
Packet Power's Gateway Version 4 collects monitoring data from up to 150 Packet Power wireless monitoring devices. Existing Gateway functions such as local firmware updates, auto discovery, load balancing, SNMP and Modbus integration, and master/peer relationships are all supported.
Works with V2 and V3 Gateways
Version 4 can be used in combination with Version 2 and Version 3 Gateways. Note that Ethernet Gateway Version 1 will no longer be supported effective December 31, 2016. V2 and V3 gateways will continue to be actively supported.
Available immediately
Version 4 pricing is comparable to Version 3. Model numbers have changed to reflect new options available. Most outstanding Ethernet Gateway Version 3 orders will be filled with Version 4 models beginning this Fall.
View the product brochure.
Go to www.packetpower.com/gateways-hubs for more information.