Packet Power has moved from opaque to clear plastic enclosures for our "M", "R" and "P" wireless power monitors. The material is unchanged, only the level of coloration has been modified.
The change does not affect the monitor's performance or any aspect of the product's various certifications. You'll start seeing the new monitors over the next several months.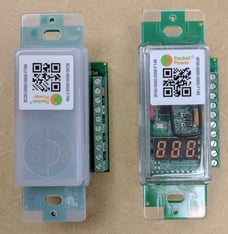 Customers who've installed the new modules like the enhanced visibility to the LED display. Some of our customers have noted that Packet Power's "blinky lights" make for impressive facility tours and the new clear enclosures enhance the experience.
Let us know what you think.