Do you have basic power strips that you wish were metered? Would you be interested in a way of upgrading your existing power strips that doesn't require running additional wires or removing your existing equipment? Packet Power's Smart Power Cables offer the simplest, most cost effective way to convert any unmetered rack PDU into a smart PDU.
What is a "Smart Cable"
Smart Power Cables are power cables with embedded wireless power monitors. Each Smart Cable provides high accuracy power measurements from current to energy usage.
Explained: How our power cables work with your hardware
Smart Power Cables use your existing PDU and are available to fit any plug type from small single-phase cords to high amperage three-phase devices.
Is it really that simple?
Easy installation differentiates Smart Power Cables from other solutions. It's as simple as plugging in a Smart Power Cable between the PDU and its power source and start monitoring.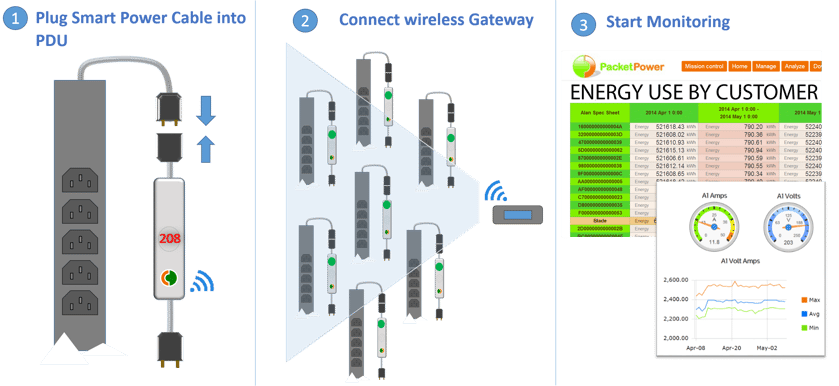 Explained: How our power cables work with your software
The cables work with any DCIM/BMS system using standard Modbus or SNMP protocols.
Is it really less expensive?
Adding a Smart Power Cable to your existing PDU often costs far less than a metered PDU and delivers the functionality of a full featured power monitoring system. There are no network cable drops or switch ports required. And because the wireless monitoring network is self-configuring and self-optimizing, there are significantly lower support staff needs during installation and over time.
One multinational co-location provider did a detailed cost analysis and found Packet Power's Smart Power Cables cost 30% less than metered PDUs in the first year and over 70% less in subsequent years.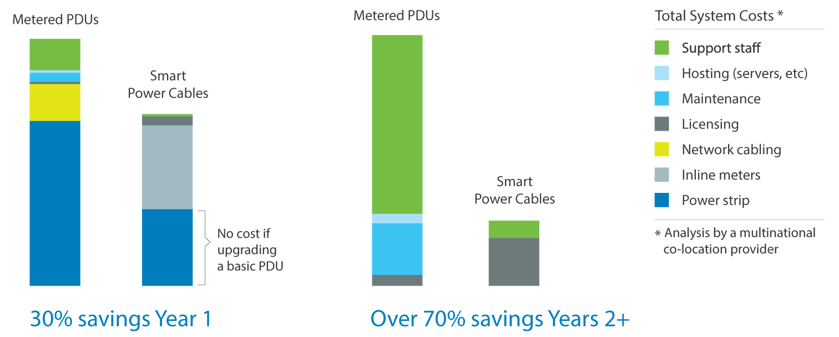 Does wireless really work and is it secure?
Packet Power's wireless protocol was purpose-built for data centers. It's different than WiFi or ZigBee and can only be used for monitoring. It allows for a complete separation of the wireless monitoring network from the wired data network. It supports full encryption, and has an advanced design proven to work in data centers run by major financial services firms, government agencies, and colo companies worldwide.
Learn more about converting your basic PDU to a smart PDU or email sales@packetpower.com to find out how we can help you get started.