How do I install an environmental monitor? What's the process to configure IP addresses for the Ethernet Gateway? How do I access SNMP or Modbus data? How big is a Gateway? Great questions. The newly revamped Packet Power Support page provides answers to these questions and many more.
Our support page now provides access to a tremendous amount of information about our products and the underlying technology. Whether you need installation instructions, technical specifications, configuration tips, MIB files, register maps, or a list of compatible plugs and connectors for our Smart Power Cables, you can access it from the support page.
Where to access
The easiest way to get to this information is by selecting "Support" in the packetpower.com top navigation. You'll arrive at the Support page (shown below).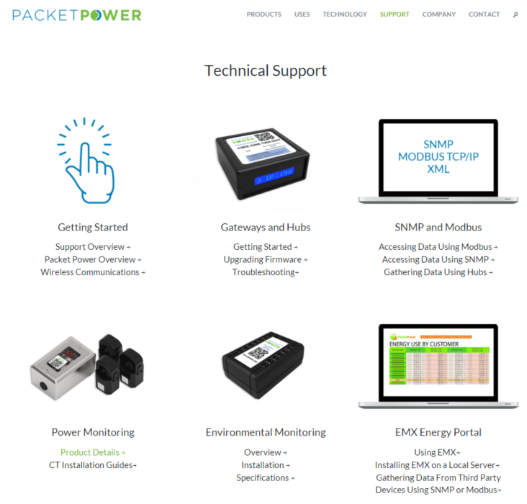 Information is organized by product category, along with a general Getting Started overview and several frequently asked questions about accessing third-party data.
Resource highlights
The best way to understand the information available is to let your needs drive your exploration. Click on any link of interest and dive into the detailed resources available. Below are just a few examples of the technical information available.
Smart Power Cable compatible connector types (scroll to the bottom of the Technical Specs)
Assigning IP addresses for the Gateway
Accessing SNMP data
Accessing Modbus data
Creating friendly node names in EMX
Temperature probe installation details

We are here to help
Packet Power solutions are designed to interface with many different third-party applications and can be used in a wide variety of combinations. Our support team is ready to help. You can always reach us by emailing support@packetpower.com or calling +1 (877) 560-8770 - extension 2. Your questions help us ensure we provide the information you need and in ways you can easily find.
Improving our support resources was one of our New Year's resolutions. Look for deep dives into product-specific support materials in upcoming posts.